According to a legend, this beauty was recognized long time ago by sea fairies, who used to dance in a circle on the white pebbles of Artina and who scattered pearls on them; today a song rings along the murmur of the sea, a guitar is heard in the bosom of the camping site SIRENA.
This camp is a real jewel of tourism, a place for relaxation and enjoyment, ecological oasis of tranquility and peace in the heart of Dalmatia, Omis Riviera. Rogoznica is a lively place, inhabited 1231.g. Beneath the stone height Gorica.
Campsite has two large beaches, one on the eastern and other on western part. They are suitable for whole family. There are also some small very narrow hidden patches in the Rocks, this southern part of Autocamp is especially appealing to lovers. These are very romantic little beaches. Also on the west side there is a small harbor.
Every year, the traditional fishermen's nights with a rich cultural program and the famous Croatian musicians. From camp we organize excursions to Dubrovnik, Medjugorje, and the islands (Brac, Hvar, Kornati). Nature lovers will find here enough of a challenge.
Particularly attractive to climb to the church of St.. Vida, built between the 13th and 14 century, which is located at an altitude of 639 meters, and there is other monuments (St.. Cosmas and Damian, the church of the Virgin of the Assumption, etc.) In this beautiful environment and beauty, nature and the sea enrich people and heartily invite you into their fold.
Located in the small village of Lokva Rogoznica, 26 kilometres from Split and 9 kilometres from Omiš, camp Sirena can accommodate up to 220 guests. Its beach is about 20 metres wide and has a view of the nearby island of Brač.
Guests can hire windsurfing boards, pedal boats and beach canoes as well as attend the camp's sailing school. The camp also offers its own shop as well as providing guests with daily fresh fish, salted anchovies and homemade wine.
The three star campsite, camp Sirena is named after the legend of two sirens caught dancing on the pebbly beach in Artina, one of the most beautiful beaches on the Croatian Adriatic coast.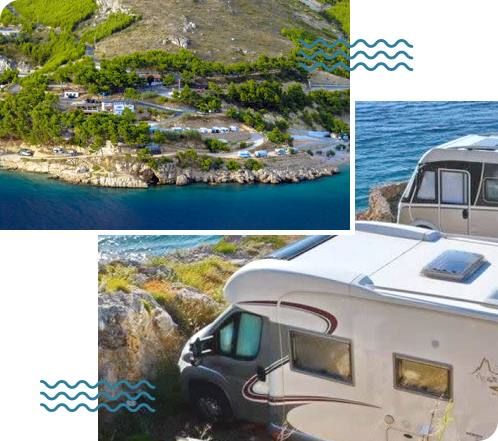 Camp content
Sport, recreation & leisure
Boat hoist
Boats for hire
Windsurf school
Boat ramp
Evening entertainment
Small port facility in the campsite
Sanitary facilities
Washing machine
Washing cabin
Discharge for chemical WC
Camper service
Cabin Toilettes
Dryer
Sanitary facilities with hot water
Shower cabin
Bars, restaurants & shops
Inn, restaurant
Mini-Market
Gas canister sales
Grocery shop
Bars and patisseries
Newsstand (papers and souvenirs)
Pitches
Pitches with waste water: 2
Organized pitches: 75
Pitches with Internet connection: 75
Pitches with electric hook-up connection: 75
Motorhome area with electricity, fresh and waste water: 5
Omiš riviera
South of the very town of Omiš, along almost 20 km of the coast, stretches the Riviera of Omiš, with its numerous small villages and fisherman's ports, offering escape from the hustle and bustle of city life. Although geographically not far apart, each of the villages has its own story to tell, and each offers visitors something new and unique. Along the Riviera you'll find dozens of grocery stores, restaurants, hotels and hundreds of private vacation rentals where you can put your feet up and relax on your sea-view balcony, which almost every house on the Riviera of Omiš boasts.